Подача статей





Abakumova J.G.
LEVELS AND CRITERIA OF COMPLETENESS HEALTH CARING COMPETENCE OF FUTURE TEACHER [№ 9 ' 2016]
According to the third generation standards, the high school keeps priority competence approach, which play very important role in the conceptual changes in the sphere of education. The graduating students, who has mastered the basic educational program must have the row of competencies and the certain activity relevant. Among them the health care competence of the teacher, as integrative professional and personal quality, providing the protection of live and health, formation a culture of healthy and safe lifestyle subjects of the educational process. The health care competence of the future teacher includes the following structural components: motivational and evaluative (health awareness as vital and professional significant value, incentive to the acquisition of knowledges, production of useful habits, study of their own health and control of health status), cognitive (the future teacher's mastering knowlenge system of foreign and domestic health care experience, professional health and health in general), activity (manifestation of independence in the health care process, in the development of individual styles and methods of the health care), сommunicative (organization and support of health care attitude, ability to control their emotions in the learning process, ability to receive and to transmit educational information about health, to transmit the experience of healthy lifestyle conduct), emotional and volitional (getting satisfaction from the health care process, development of the emotional sphere, formation of the health care activity of a student and positive attitude towards it). They accentuate their personality and professional components. For assess the level of development of these components they where designed the main criteria and the levels of formation, providing the potential of purposeful pedagogical impacts in the process of formation this integrative quality in the system of professional education.
I.V. Abakumova
TEACHING AS ONE OF TWO PROCESS AND ITS MAIN PROMPTED FORCES IN THE SEMANTIC INTERPRETATION [№ 3 ' 2003]
In this article which is the logical continuation of the article "Basic conception of classical didactics in the content of semantic theory" we tried the further rethinking of the modern psychological and pedagogy categories which define the teaching process on the general sense and personal sense.
Abakumova I.V.
BASIC CONCEPTION OF CLASSICAL DIDACTICS IN THE CONTENT OF SEMANTIC THEORY [№ 8 ' 2002]
In this article we tried to interpret the main ideas of the classic theory of teaching: the aims of teaching, the principles of teaching, the content and the forms of teaching - according to the modern general psychological conceptions about the peculiarities of the development of the semantic formations in the process of the ontogenesis. Filling with new content the traditional categories is the logical stage in working out the problem which is called "The dynamics and the mechanisms of the semantic formation in the teaching process".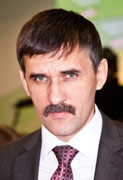 Editor-in-chief
Sergey Aleksandrovich
MIROSHNIKOV