Подача статей





Chirkova E.N., Zavaleeva S.M.
MORPHOLOGICAL PECULIARITIES OF LIGHT DOMESTIK RABBIT (ORUCTOLAGUS)
Consider the impact of anthropogenic factors on the functional state of the organism of the animals and their reproduction. Questions of morphology of respiratory organs, especially the respiratory Department, to date, remain unexplored. This work is devoted to clarify the structure of the lungs rabbit (Oructolagus). Methods of preparation and morphometrics studied the structure of the lungs and defined their belonging to a certain comparative anatomical type. The study established the equity structure of the lungs rabbit home, determined their topography, shape, size, weight, coefficient of asymmetry in the mass.
Key words:
bunny home, morphology, light, morphometry, zacatecana share.
References:
1. Zhedenov, V.N. Lungs and heart of animals and the person (in natural-historical development) / V.N. Zhedenov// — M: Higher school, 1961. — P. 215-311.
2. Avtandilov, G.G. Medical morphometry. Managements / G.G. Avtandilov // — M: Medicine, 1990. — P. 202-214.
3. Lakin, G.F. Biometry/ G.F. Lakin / — M: Higher school. — 1990. — P. 13-124.
4. Pesenco, Y.A. Principle and methods of the quantitative analysis in faunistic researches / Y.A. Pesenko// — M: Science. — 1982. — 287 p.
5. Python V.L. Veterinary genetics with bases variation statistics/ V.L Petukhov, A.I. Zhigachev, G.A.Nazarov// — M: Agropromizdat, 1985. — 368 p.
6. Rokitsky, P.F. Biologicheskaya statistics / P.F. Rokitsky // — Minsk: Higher school. — 1973. — 320 p.
7. Nozdrachev A.D., Poles E.L., Fedin A.N. Anatomy of a rabbit. — SPb. Publishing house S. St. Petersburg. University, 2009. — 353 S.
8. Schmidt — Nielsen, K. Physiology animals. The adaptation and Wednesday / K.Schmidt — Nielsen// — M: World, 1982. — Book 1. — P. 116-184.
About this article
Authors:

Chirkova E.N., Zavaleeva S.M.



Year:

2014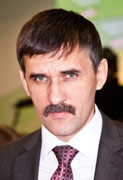 Editor-in-chief
Sergey Aleksandrovich
MIROSHNIKOV