Подача статей





Yakovleva L.V., Fedotova A.V.
METHODS OF FIELD ELECTROPHYSICS IN SOIL APPROBATION OF ARID TERRITORIES
The article dwells on the results of the research that was made with the help of electrophysics methods and traditional methods of saline soil approbation of anthropogenically altered landscape of the deltoid landscape within the western part of the Volga delta and the eastern part of ilmen. Our regression analysis of different data, obtained by different methods, confirmed that it is preferable to use a water-saturated soil pastes method to estimate the salt content in the landscape.
Key words:
salinity, VES survey, deltaarea, anthropogenicallyalteredlandscape, water extract, soil paste.
References:
1. V.M. Borovskiy Salt exchange between sea and dry land; long-termdynamicsofsoilprocesses// SoilScience. — 1961. — №3.– P.1.
2. A.F. VadyuninaThe use ofthe electrical parametersin the diagnosis andtechnologypfsaline soils// Abstracts. Conference"Improving themethods and techniques ofdevelopmentof alkaline soils."-M., 1976. -P.78-80.
3. L.O. KarpachevskiyCapillaryriseof salt solutionsin layeredsoils/L.O.Karpachevskiy// Reportof high school.– 1959. — №3.-P.23-28.
4. A.I. PozdnyakovMethod of constantelectric fieldsin soilresearch / /A.I.Pozdnyakov, Yu.K.Khan// Soil Science. — 1979. — №7.-P.948.
5. Halvorson, A.D., Rhoades I.D. Field mapping soil conductivity to delineate dryland saline seeps with fourelectrode technique // Soil Sc. Soc. America J, 1976. — V. 40.
About this article
Authors:

Yakovleva L.V., Fedotova A.V.



Year:

2013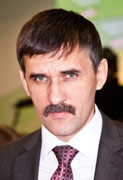 Editor-in-chief
Sergey Aleksandrovich
MIROSHNIKOV