Подача статей





Zavaleeva S. M., Chirkova E.N.
MORPHOLOGY OF HEART OF THE ORDINARY POLAR FOX
Article is devoted to morphological features of heart of a polar fox ordinary. Authors accurately formulated the purposes and research problems. In work are submitted data on heart topography, its form, the sizes, structural features sokratitelny and carrying out kardiomiotsitakh in various departments (auricles, ventricles), distribution glycoprotein.
References:
1. Zhedenov V. N. lungs and heart of animals and the person (in natural-historical development). M: The higher school, 1961. — Page 215-311.
2. Tayguzin R. Sh., Veshnyaki A.I. Torzhok A.A.Osobennosti of morphology of an internal surface of heart of a pig and small ruminants//Tez. докл. Regional conference of young scientists and experts. — Orenburg. 1998 . — H. II. — Page 66-67.
3. Udovin G. M., Zavaleeva S. M., Tayguzin R. Sh. About a structure of septomarginalny trabeculas and mamillar muscles of heart of a pig. // Interhigher education institution. сб. науч. тр. Functional and age morphology of pigs in ekologo-ex-remental lighting Belgorod. Belgorod SHI, 1990. Page 62-64.
4. Yudichev YU.F. Comparative anatomy of cardiovascular system of fur animals. Manual. — Omsk: Publishing house of Omsk SHI. 1985 . — 52 pages.
5. Zavaleeva S. M., Chirkova E.N. Morphology of internal structures of heart of a badger. // Role of biology and veterinary medicine in realization of a state program of development of agriculture for 2008-2012, on October 21-23, 2008: materials international scientific and practical conference. — Orenburg: JSC Insis, 2008. — 208 pages.
6. Zavaleeva S. M., Chirkova E. N. Very tectonics of internal structures of heart of a river otter. // Fundamental sciences and practice: down. scie. works of the 3rd International teleconference, on October-6 25 November, 2012 — Tomsk: SibGMU, 2010. — Page 212.
7. Zavaleeva S. M., Chirkova E.N... Sizov E.A. Evolutionary and functional morphology of animals: studies. grant. — Orenburg: Regional Public Institution Public Educational Institution, 2010. — 244 pages.
About this article
Authors:

Zavaleeva S.M., Chirkova E.N.



Year:

2013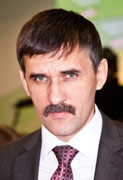 Editor-in-chief
Sergey Aleksandrovich
MIROSHNIKOV