Подача статей





Lazarov S.A.
DIALECTICS CONSCIOUSNESS IN THE COMMUNICATIVE PROCESS
The article considered the dialectical approach to understanding the problem of consciousness in the communicative process. Author examines the consciousness and communicative process, while paying attention to the ontological basis of the phenomenon, but not its social aspect. Historical development of consciousness, as well as the metamorphosis of communication, affect all aspects of human life. Development of technologies, including the Internet, poses new problem which can be solved by "old" approaches (eg, dialectical).
Key words:
dialectic, consciousness, communication, net.
References:
1. Aristotle. Works in 4 volumes. V. 2. — Moscow: Mysl, 1978. — 687 p. — (Philosophical Heritage).
2. Ludwig Wittgenstein. Selected works. — Moscow: Publishing House "The territory of the Future", 2005. — 440 p.
3. Guattari, Felix Machinery unconscious / F. Guattari // Archetype: philosophical psychoanalytic journal. — 1995. — №1. — P. 58–65.
4. Ilyenkov, E. V. Philosophy and culture / E. V. Ilyenkov. — Moscow: Politizdat, 1991. — 464 p. — (The thinkers of the twentieth century).
5. Ortega y Gasset Jose. Revolt of the Masses / J. Ortega y Gasset. — Moscow: AST Publishing, 2002. — 506 p.
About this article
Author:

Lazarov S.A.



Year:

2013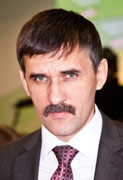 Editor-in-chief
Sergey Aleksandrovich
MIROSHNIKOV