Подача статей





Fedotov А.S.
ALKYLATION OF TOLUOL'S BY CYKLOHEXEN IN PRENCE OF SULPHATE GLYCERINE' S ETHER
Have been made analysis of different factors influence on appearance and chemical composition of alkirises products of toluol by cyclohexen in presence of sulphate glicerines ether usedas catalyst. It was shown selectivity and the service feriod in the process of alkirises.
Key words:
toluol, cyclohexen, catalyst, cycloalkirises.
References:
1 Fedotov A.S. Toluol's condensation by isopropyl oil / A.S. Fedotov — Orenburg: OSU bulletin, 2006 № 5, 91 — 93 р.
2 Fedotov A.S. Waste production of isobutyl spirit as material for getting p — tretbutiltoluol / All — Russian scientificuand technical conference Orenburg: OSU, 2011 — 2405 p.
3 Nakanishi K. Infrared Spektra of Complex Molecules and Structure of Organic Compounds [Russian translation]. — M.: Izd. "Mir" (1965). p. 31.
4 Belllami L. New data in IK spectors of difficult molecules / L. Bellami. — M.: "Mir", 1971 — 325 p.
5 Authorship № 33271 (1971).
About this article
Author:

Fedotov A.S.



Year:

2013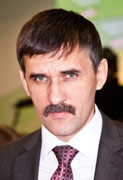 Editor-in-chief
Sergey Aleksandrovich
MIROSHNIKOV