Подача статей





Isaeva V.M.
CONTENTS OF THE MAIN STAGES OF POLICY OF CRISIS MANAGEMENT
The essence of policy of crisis management is investigated. Its main stages are revealed. The basic principles of system of crisis financial management are revealed by the enterprise. Realization of policy of crisis financial management by the enterprise is shown at bankruptcy threat.
Key words:
crisis management, crisis, stages, crisis financial management.
References:
1. Kulik, I. I. Preventive measures of system of crisis management: formation of financial and economic policy of the agricultural enterprise / I. I. Kulik // Institutional design and its role in increase of efficiency of the state economic policy: materials IV Mezhdunar. Internet conference of economics department. RGU fact. — Rostov-on-Don, 2010. — P. 35–41.
2. Yun, G. B. Crisis management in the Russian economy / G. B. Yun. — SPb.: St. Petersburg University of Economics and Finance, 2011. — 210 p.
3. Bogomolov, V. A. Anti-recessionary regulation of economy. Theory and practice: the textbook for higher education institutions / V. A. Bogomolov, A. V. Bogomolova. — M.: INFRA-M, 2009. — 271 p.
4. Zhilkina, A. N. Upravleniye finance. Financial analysis of the enterprise: textbook / A. N. Zhilkina. — M.: INFRA-M, 2010. — 332 p.
5. Volzhanin, A. V. Bankrotstvo under the law / A. V. Volzhanin // Joint-stock company: questions of corporate governance. — 2010. — № 3. — P. 4–13.
6. Danilova, Yu. Bankrotstvo of the companies: forecasting problems / Yu. Danilova // Problems of the theory and practice of management. — 2009. — № 9. — P. 65–70.
About this article
Author:

Isaeva V.M.



Year:

2012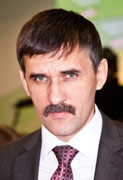 Editor-in-chief
Sergey Aleksandrovich
MIROSHNIKOV