Подача статей





Zelyanskaya N.L.
POLITICIAN'S IMAGE OF THE WORLD AS A COMPONENT OF MEDIA ENVIRON (BASED ON THE SPEECHES BY BORIS NEMTSOV)
The article is devoted to reconstruction of politician's image of the world based on his public speeches — unprepared speech self-presentations. The reconstruction was carried out by analyzing the grammatical organization of utterances and stylistic devices, including means of expressiveness and ways of reasoning. This approach has allowed to reconstruct the basic principles of politician's thinking on which his image of the world is based on.
Key words:
image of the world, political discourse, Internet communication, lingvopraksiology.
References:
1. Artemyeva, E.Yu. Basic Psychology of Subjective Semantics / E.Yu. Artemyeva. — M.: Nauka; Smysl, 1999. — 350 p.
2. Belousov K.I., Zelyanskaya N.L. Lingvopraksiology and the Internet-monitoring (Internet-audience about the "passport of schoolboy's health") / K.I. Belousov, N.L. Zelyanskaya. — Practical Marketing. — М.: BCI Marketing, 2010. — №12 (166). — P. 22–40.
3. Zinchenko, V.P. From the Genesis of Sensations to the Image of the World / / A.N. Leontyev and modern psychology. — Moscow: Moscow state university press, 1983. — P. 141–149.
4. Leontiev, A.N. Selected psychological works: in 2 vols. T. II. — M.: Pedagogica, 1983. — 320 p.
5. Mazlumyan, V.S. Picture of the World and the Image of the world // World of psychology. — 2009. — №4. — P. 100–108.
6. Tarasov, E.F. The Image of the World // Questions of psycholinguistics. — 2008. — №8. — P. 6–10.
About this article
Author:

Zelyanskaya N.L.



Year:

2012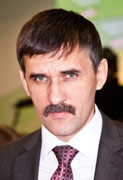 Editor-in-chief
Sergey Aleksandrovich
MIROSHNIKOV