Подача статей





Fedotova A.V., Knyazev A.G.
STUDYING OF INTERDEPENDENCE BETWEEN SOIL PROPERTIES IN THE SALTED SOILS
In work results of the statistical analysis of interdependence of the maintenance of salts and soil properties in the salted soils of delta of Volga are resulted. It is shown that most the close connection exists between the maintenance of salts in soil and рН, and also the maintenance of a humus and humidity of soil. Results of the factorial analysis have shown that the first primary factor is positively connected with S and rb, negatively connected with pH and W.
Key words:
salinification, a salt condition of soil, soil properties, statistical methods, the factorial analysis
References:
1. Dobrovolsky G. V, Nikitin E.D. Preservation of soils as irreplaceable component of biosphere. The is functional-ecological approach. — М: The Science, 2000. — 185p.
2. Fedotova A.V., Sorokin A.P., A.P. Spatial's Marksmen a variation of physical properties in brown arid soils of delta of Volga//Natural sciences. — 2011. — №2. — P.13-27
3. Field and laboratory methods of research of physical properties and modes of soils: the Methodical management / under the editorship of E.V. Shein. — М: Moscow State University Publishing house, 2001. — 200p.
4. Shein E.V. Complex field researches of physical properties and processes in soils//Soil science. — 1987. — №2. — P.35-41.
5. Theories and methods of physics of soils. The collective monography / Under the ed. Shein E.V. and L.O. Karpachevsky. — М: "The Signature stamp and To", 2007. — 616p.
About this article
Authors:

Fedotova A.V., Knyazev A.G.



Year:

2011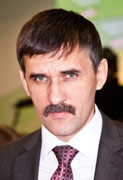 Editor-in-chief
Sergey Aleksandrovich
MIROSHNIKOV