Подача статей





Zavaleeva S.M., Sadykova N.N., Chirkova E.N.
CHANGES OF RABBIT'S SPLEEN OF IN AGE ASPECT
The artide is devoted to the analysis of the problem of rabbit's spleen morthology changes in postnatal ontogenesis (from a neonatal stage till five years). The author contains the explanation of body measunement indicators increasing and marks variability of its form in age aspect. The artide paus special attention to the point that the body index shows its prevailing form is extended and highest and highest growth is observed in physiological maturing.
Key words:
a spleen, postnatal ontogenesis
References:
1. Brykova T.S., Yagmurov O. D. A structure and spleen functions//Morfologya.-1993. Release.5-6. P.142-160.
2. Vishnevskaya, Т.Ya., Shevchenko, B.P. Venous vessels of a spleen of a sheep, Actual problems of veterinary medicine and biology: Тhe Materials of international scientifically — practical conference devoted to 150 — Orenburg veterinary service. — Orenburg, 2003. — 212 — 214p.
3. Zhedenov V. N, Bigdan S.S., Lukjanova V. P, Samborskaja E.P., Udovin G. M, Janshin K.I., Anatomy of a rabbit. — М: the Soviet science, 1957. — 307p.
4. Zhurkova E.M., Morphofunctional changes of spleen of rats' after cansatsin blockade of peripherai afferent neurons /E.M.Zhurkova., N.F.Vorobeva//Morphology 1998, — №6,-P.44-46.
5. Zhevlakova S.I., the Postnatal morphogenesis of pigs' spleen (in norm and at the submition of biologically active substances)/S.I.ZHevlakova (the Author's abstract on scientific degree competition of the candidate of biological science/ Saransk.-2001.-19p.
6. Zusman N.S., Cultivation of rabbits/N.S.Zusman, V.I.Lepyashkin — M.:Кolos, 1966.-222p.
7. Tehver J.T., Histology warmly — vascular system and hemopoietic bodies of domestic animals. — Tartu, 1970.-346p.
About this article
Authors:

Zavaleeva S.M., Sadykova N.N., Chirkova E.N.



Year:

2011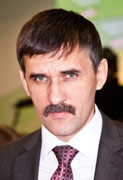 Editor-in-chief
Sergey Aleksandrovich
MIROSHNIKOV