Подача статей





Zelyanskaya N.L., Nikhiforova J.A.
LINGUISTIC REPRESENTATION OF THE POLITICAL COMPONENT OF THE PICTURE OF THE WORLD IN THE HEADLINES OF MASS MEDIA
This article is devoted to the research of the means of language representation of the political component of the world picture in media.The leading method is a method of grafosemantic modeling of semantic space of newspaper headlines.
Key words:
concept, politics, conceptsphere, mass media, headline, newspaper text, the picture of the world, representation.
References:
1. Belousov, K.I. Modelling of the Notional Potential of the Term "Headline" [Text] / K.I. Belousov, N.L. Zelyanskaya // Proceedings of High Educational Establishments. Povolzhsky region. The Humanities. — Penza: PSU, 2008. — №4 (8). — P. 62–71.
2. Komarov, E.N. Value Reference points in the headlines of the French and Russian Mass-media: Diss… Candidate of Philology / E.N. Komarov. — Volgograd, 2003. — 200 p.
3. Ozhegov, S.I. Explanatory Dictionaryof the Russian Language / S.I. Ozhegov, N. U. Shvedova. Russian of Scienses. The Institute of the Russian Language named by V.V. Vinigradov. — The 4th issue, added. — M.: Azbukovnik, 1997. — 944 p.
About this article
Authors:

Nikiforova Zh.A., Zelyanskaya N.L.



Year:

2011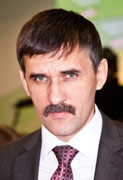 Editor-in-chief
Sergey Aleksandrovich
MIROSHNIKOV