Подача статей





Futoryansky L.I.
ORENBURG COSSACKS TO DEFEND THE FATHERLAND (HISTORICAL REVIEW)
Since its inception by the decree of Empress Elizabeth Cossacks defended their homeland against the nomads. It was not only in XVIII, but in the XIX-XX centuries, during the Russian-Turkish war, Russian-Japanese War. The article refers to the financial position of various categories of the Cossacks. During the civil war in 1919, the bulk of the Cossacks sided with the Soviet government. They served in the ranks of the First Cavalry. During the Great Patriotic War, the vast majority of the Cossacks acted to defend the homeland. The overwhelming number of Cossack units was awarded the title of the Guard. The process of revival of the Orenburg Cossacks, as in the whole country, is held in accordance with the concept of public policy of the Russian Federation concerning the Russian Cossacks.
Key words:
Orenburg Cossack army, military chief, an irregular corps, complained malozhalovannye, Cavalry Regiment, World War II.
References:
1. Futoryansky LI II Neplyuev — founder of Orenburg Province / Ivan Neplyuev and South-Ural region: Math. Sci. Conf. — Chelyabinsk, 1993. — S. 3-5.
2. The history of the Orenburg region. Compiled and scientific editor of the doctor of historical sciences, professor, Honored Scientist of Russia, LI Futoryansky. — Orenburg: Orenburg Publishing House, 1996.
3. Futoryansky LI Cossacks of Russia in World War I / / On the history of the Russian revolutions. Events, opinions, estimates. — M.: 2007. — S. 515-525.
4. Futoryansky LI Cossacks of Russia in the flames of civil war. — Orenburg, 2003. — 474.
5. Futoryansky LI Cossacks of Russia in the Great Patriotic War. — Orenburg, 2006. — 166.
6. Batyrev VD, raisins, AI, Matveev OV The Union of Cossacks of Russia: 1990 — 2000. — M.: Rusak, 2000. — 192.
About this article
Author:

Futoryanskiy L.I.



Year:

2011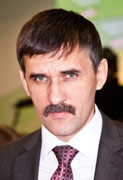 Editor-in-chief
Sergey Aleksandrovich
MIROSHNIKOV