Подача статей





Pisarchik L.Yu.
PROBLEM OF VALUES PERCEPTION AND CONCEPTION OF SCIENCE IN E. GUSSERL'S PHENOMENOLOGY
Conception of E. Gusserl's science urged there to solve the problem of construction of universal knowledge system directed on the disclosing of existence meanings is regarded in this article. Gusserl performed as a philosopher ambitious to give criticism of anti-fundamentalistic point of view about science and at the same time developing non-classical treatment of classical ideal of scientific nature. In the Gusserl's phenomenology truth and value are organically combined in characteristic of knowledge which allows him overcoming extremes of anti-fundamentalism and classical fundamentalistic conception of the science.
Key words:
phenomenology, intentionality, phenomenological reduction, phenomenon, living world, eidetic sciences, factual sciences, truth, value.
References:
1. Babushkin V.U. The nature of wisdom. — M.: Nauka, 1978.
2. Babushkin V.U. Phenomenological philosophy of sciences. Critics analysis. — M.: Nauka, 1985.
3. Brentano F. Selected works. — M.: DIK, 1996.
4. Gaidenko P.P. Scientific rationality and philosophical mind. — M.: Progress-Traditsia, 2003.
5. Gaidenko P.P. The problem of intentionality according to Gusserle // Modern existentionalism. — M.: Mysl, 1966.
6. Gusserle E. The ideas of pure phenomenology and phenomenological philosophy. Book 1. — M.: Akademicheski proekt, 2009.
7. Gusserle E. Logics studies. Kartesians meditations. The crisis of European sciences and transcendental phenomenology. The crisis of European humanity and philosophy. Philosophy as a keen science. — Mn.: Harvest, M.: AST, 2000.
8. Gusserle E.The clarifying method // Modern philosophy of sciences. Reader. — M.: Nauka, 1994.
9. Gusserle E. Paris reports // Gusserle E. Selected works. — M.: Editor House "Territoria buduschego", 2005.
About this article
Author:

Pisarchik L.Yu.



Year:

2011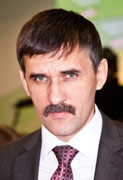 Editor-in-chief
Sergey Aleksandrovich
MIROSHNIKOV