Подача статей





Futoryanskiy L.I.
OUR COMPATRIOT A.I. RIDIMTSEV AT BATTLES WITH FASCISM
The article is devoted to the heroic pages of the life of the famous Orenburg Alexander Ilyich Rodimtseva. Examines its activities in Spain and the Soviet Union since 1936. Illustrated by his military qualities and outstanding achievements in the fight against fascism.
Key words:
AI Rodimtsev Republican Spain, Orenburg, the struggle against fascism, the heroism, courage, internationalism, and the Cossacks.
References:
1. Novikov, MV The Soviet Union and the Spanish Civil War 1936-1939's / Russian history. — 2009. — № 5. — S. 60-63.
2. Vistula-Oder operation: a historical sketch. — M., 1965. — S. 77.
3. Rodimtsev AI The guardsmen were killed. — M., 1969. — S. 6.
About this article
Author:

Futoryanskiy L.I.



Year:

2011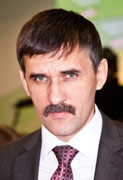 Editor-in-chief
Sergey Aleksandrovich
MIROSHNIKOV