Подача статей





Zelyanskaya N.L.
THE PRINCIPLES OF THE COURSE OF EVENTS IN THE NOVELLA BY F. M. DOSTOYEVSKY "THE DOUBLE"
This article is devoted to the analyses of the peculiarities of the field of events in the novella by F. M. Dostoyevsky "The Double". The researcher singles out two series of events in the literary work: false events (those that have the status of literary stock-phrase) and true events (those that reflect the logics of the plot pointed out in the literary work and cause the development of the main character). Complicated interdependence of false and true events make up new features of the cause of events formed in the narrative field of the Russian successive literature of 1940-s.
Key words:
creative activity of F.M. Dostoyevsky, the course of events, genre, story.
References:
1. Bakhtin, M.M. Questions of Literature and Aesthetics. Researches of different years / M.M. Bakhtin. — М. : Khudozhestvennaya literatura, 1975. — 504 p.
2. Dal, V.I. Explanatory Dictionary of Alive Great Russian Language: In 2 vol. / V.I. Dal. — М. : OLMA-PRESS, 2002. — Vol. 2. : П-V. — 1088 p.
3. Dostoevsky, F.М. Complete works: in 30 vol. / F.М. Dostoevsky; the editor-in-chief V.G. Bazanov. — Л. : Nauka, 1972. — Vol. 1. — 520 p.
4. Zelyanskaya, N.L. Dostoevsky and Semiosphere of Russian prose. F.M. Dostoevsky's Creativity of 1840-50th years in a Context of Cultural-Semiotics Tendencies of the Epoch / N.L. Zelyanskaya. — Orenburg : Publishing house of Orenburg state university, 2009. — 352 p.
5. Tupa, V.I. Narratology as Analytics of a Narrative Discourse ("The bishop" A.P. Chekhov) / V.I. Tupa. — Tver : Publishing house of Tver state university, 2001. — 58 p.
6. Schmid, W. Narratology / W. Schmid. — М. : Jazyki slavjanskoy kultury, 2003. — 312 p.
About this article
Author:

Zelyanskaya N.L.



Year:

2010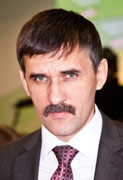 Editor-in-chief
Sergey Aleksandrovich
MIROSHNIKOV