Подача статей





Nesterov D.V., Sipaylova O.Yu.
ZINC EFFECT ON EFFICIENCY OF FORAGE ENZYMATIC AGENT APPLICATION
The article presents the results of research over effect of enzymatic agent singly and in combination with zinc in different ways on growth rate and bird's essential elements interchange. As a result of this research it has been discovered that using one and the same element, but in different form, as a source of microelements has different effect on efficiency of enzymatic agent applicaton while having similar effect on mineral metabolism of a bird.
Key words:
enzymes, mineral metabolism, zinc, superfine powder.
References:
1. Aghajanian, N. Adaptation and human ecology: the role of micronutrients / NA Aghajanian, AE Severin / / Geochemical ecology and biogeochemical rayoniro-tion of the biosphere: proceedings of II grew up. Shk. — M., 1999. — S. 168-169.
2. Aghajanian, NA adaptation, ecology and restoration of health / NA Agad-zhanyan, AT Bykov, GM Konovalov. — M.: Publishing House of People's Friendship University, 2003. — 260 pp.
3. Arsentjeva IP, Baytukalov TA, Glushchenko NN, Zotov ES, Sidorova, EP, Theological OA, EL Dzidziguri Evaluation and application of nanoparticles in medicine and honey magnesium / Materials. — 2007. — №4. — S. 54-57.
4. Bantukalov TA, Lobaeva TA, Glushchenko NN, Theological OA Olkhovskaya IP, Orekhov OI, Study of the regenerating activity of the powder of ultrafine magnesium in the dosage forms / Bulletin of the University, was friendly to people. — 2004. — №1. — S. 20-26.
5. Fine metal powders — sources of micronutrients for agricultural poultry / IA Egorov, VP Kureneva, NN Glushchenko, LD Fatkulli-on, Fedorov Yu / / physiological and biochemical basis of increase Agricultural productivity Birds: Sat. Scientific. Tr. — Borovsk, 1985. — S. 80 — 88.
6. Glushchenko, NN Physical-chemical regularities of biological action you-sokodispersnyh metal powders: Author. Dis.... Dr. biol. Science: 03.00.02 / NN Glushchenko. — M., 1988. — 50.
7. Glushchenko NN, Theological OA Olkhovskaya IP Change the content of natural antioxidants-governmental with the introduction of zinc Bulletin of the Russian University of Friendship on-delivery. — 2000. — №2. — S. 75-79.
8. Prevention of iodine deficiency in young cattle fattening in the industrial, histostructure and histochemistry of the liver / N. Musina, ZN Varfolomeev, Z. Z. Yapparova [and others] / Organization and preventive medical and veterinary-rinarno -sanitary measures in animal husbandry. — Ulyanovsk, 1987. — S. 37-43.
9. Fedorov, Yu.I. On the possibility of the use of fine powders of metals for the introduction to animals / Yuri Fedorov, EB Burlakova, IG Olhovskiy Reports of USSR Academy of Sciences. — 1979. — T. 248, №5. — S. 1277-1280.
10. Furcht, G. Stoffwechselprobleme bei Absetzferkeln unter Beruchtigung verschiedener / G. Furcht, A.-E. Fussel, U. Gratsch // Futterungsregime Tierzucht. — 1986. — Vol. 40, N 10. — S. 464-466.
11. Keele, B. B. Superoxide dismutase from Escherichia coli / В. В. Keele, J. M. McCord, I. Fridovich // J. Biol. Chem. — 1970. — Vol. 245, N 22. — Р. 6176-6181.
12. Leach, R. M. Metabolism and function of manganese / R. M. Leach // Trace Elements in Human Health and Disease-II / ed. A. S. Prasad, D. Oberleas. — New York : Academic Press, 1977. — Р. 235-247.
13. Pai, T.G. Structure-function relationships in the stereospecific and manganese-dependent 3,4-dihydroxyphenylalanine/tyrosine-sulfating activity of human monoamine-form phenol sulfotransferase/ I. Oxendine, T. Sugahara, M. Suiko, Y. Sakakibara, and M.C. Liu// J. Biol. Chem. — 2003. Vol. 278, N 3. — P. 1525-1532.
14. Ploom, V. Veiste vereseerumi mikroelementide sisalduse ja ensuumi-aktiivsuste vahelisest seosest / V. Ploom, К. Ling // Loomakasvatus. — Tallinn, 1994. — N 65.– S. 92-96.
About this article
Authors:

Nesterov D.V., Sipaylova O.Yu.



Year:

2010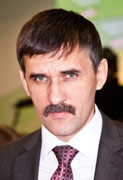 Editor-in-chief
Sergey Aleksandrovich
MIROSHNIKOV