Подача статей





Stolpovskiy G.A., Zhadanov V.I., Rudnev I.V.
CONNECTION FOR ELEMENTS OF WOODEN STRUCTURES OF RAPIDLY ERECTED BUILDINGS AND FACILITIES WITH SCREW CRUCIATE PEGS
We describe a new type of connection for elements of wooden structures on the screw cruciate pegs, which substantially reduce the complexity of installation work. The feasibility of the proposed introduction of a connecting element in building practice, its advantages over other known analogs is discussed. The results of experimental studies confirming the efficacy of screw cruciate pegs are provided.
Key words:
rapidly erected building, connection, timber, screw cruciate peg, experimental study, efficacy of implementation.
References:
1. Karlsen G.G. Wooden constructions in a regimentation. Moscow: Publishing house VIA, 1947, 290 pages.
2. The Reference of a designer of industrial structures. Wooden constructions. Moscow, The main edition of a building literature, 1937, 955 pages.
3. Dmitriev P.A., Shvedov V.N. The junction of wooden constructions with dowels by the fire mode. The bulletin of the technical information. Technical management of the capital construction IAF CIS, 1992, № 4, pages 7-11.
4. Russian Federation Patent on the invention №2353830. IPC F16B 13/00. Wooden junction of building constructions / Dmitriev P.A., Shvedov V.N., Stolpovskiy G.A., Ukrainchenko D.A. // Publ. 27.04.2009. Bull.12 – 6 pages.
5. The recommendation of the examination of wooden constructions joints / V.A. Kucherenko CRIBS. – Moscow, Stroyizdat, 1981. – 40 pages.
6. Building Code P-25-80. The wooden constructions. Design specifications. – Moscow, Stroyizdat. 1982. – 32 pages.
About this article
Authors:

Stolpovskiy G.A., Zhadanov V.I., Rudnev I.V.



Year:

2010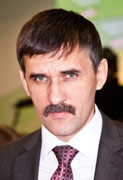 Editor-in-chief
Sergey Aleksandrovich
MIROSHNIKOV