Подача статей





Fedotov А.S., Fedotova N.F.
THE INFLUENCE OF DEMULSIFYING AGENTS ON DEHYDRATION OF WATER-OI EMULSIONS IN YUZHNO-SUBBOTINSKIY AND KOMMUNAROWSKIY FIELDS
The report provides the results of research into the causes for formation of water-oi emulsions and methods for their demolition by demulsifying agents at oil treatment plants and booster pump plants. It shows the effectiveness of Din-4 demulsifying agent with the presence of corrosion inhibitor "Concor" and without it at the wells of Yuzhno-Subbotinskiy and Kommunarovskiy fields of Orenburg Oblast.
Key words:
demulsifying agent, corrosion inhibitor "Concor".
References:
1. GOST R 51858 — 2002 Oil. General technical demands. — Moscou. : Russian State standart, 2002, IPK Publishment of standarts — 8 pages.
2.Persiaуantsen M. N.,Zagorodnev S. M., Kleimуonov V. F.,Samakaev R.H., Luzhetskyi V.P. Chemical experiment of reagent — deamulgator "DIN ". on Savelskaya UPSV NGDU "Burulukoil". — In good: Geologv and exploitanion of oil deposits of Orenburg region — Orenburg book publishshment, 1999, p 259 — 262
3. Muchmadiev A.A., Notov S. V. The results if industrial experiments of deamulgator "Alkios — 516" on objects OAO "Samotlor oil gaz".-Journ. Oil economv, 2008, №5, p. 74 — 75.
4. Nebogina N.A. Prozorova I.V. Iudina N.V. The influence of watercontent in oil on formation and reological property of wateroil emulsions. Journ. Oil economy, 2008, №12, p. 90-92.
5. Lutfullin M. F., Muchamadiev A.A., Agniev S.V., Iunusov A.I. The results of application of deamulgator Decleave S-1251 on Maloik deposit OAO "North oil gaz" TNK-BP. Journ. Oil economy, 2005, №5, p. 94-96.
6. Garifullin F.S. Badretdinov A. M. Frolov V. A. Complex technology of oil and water preparation with reagent use of binary action. Journ. Oil economy, 2007,№4, p. 82-84.
About this article
Authors:

Fedotov A.S., Fedotova N.F.



Year:

2010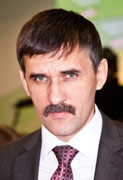 Editor-in-chief
Sergey Aleksandrovich
MIROSHNIKOV